Our Story
The O&M Global Products Division: Empowering Our Customers to Advance Healthcare
We are dedicated to advancing health and healthcare. Because when people are healthy they live better–and do more.
Together, we can create a future with better health and healthcare a reality for everyone.
Our Story
Owens & Minor's robust product portfolio provides the clinically-superior solutions that are essential for our healthcare customers to do what they do best—provide superior patient care. Our best-in-class product portfolio includes HALYARD, MEDICHOICE, and MEDICAL ACTION branded solutions for acute and non-acute care settings.
With our significant Americas-based manufacturing footprint, vertically-integrated supply process, and rigorous quality standards, we empower the best possible clinical and patient outcomes by ensuring that care providers have what they need, when they need it, no matter the situation.
Facts & Figures
Over 90% Americas-based manufacturing footprint
Serving customers in 90+ countries
600+ patents
Over 323,191 Accredited Programs Delivered; 59 Course Curriculum, 28,191 Knowledge Network Courses Delivered in 2019.
Ranked top 3 of market share in every product category
Owens & Minor
---
Founded in 1882 and in the healthcare business for nearly 140 years
Publicly traded on the New York Stock Exchange (NYSE: OMI)
Over 20,000 dedicated teammates
Unmatched, optimal portfolio of self-manufactured with outsourced products provides:
More choice with a broader portfolio
Clinical expertise and support at points of care
Quality and performance metrics that meet and exceed industry standards
Clinical expertise and support at points of care
Custom Procedure Trays
Surgical Gowns
Surgical Drapes & Packs
Sterilization Wrap
Surgical Accessories and Equipment Covers
Patient Warming
Facial Protection
Exam Gloves
Protective Apparel
Patient Care
Admissions
Anesthesia
Apparel-patient
Central supply
Enteral feeding
Equipment
Housekeeping
Incontinence
Laboratory
Maternity and baby
Mobility aids
O.R. products
Ortho/rehab
Patient care
Patient monitoring
Respiratory
Skin care
Urology
Wound care
IV Start Kits
Central Line and PICC Dressing Change
Blood Culture Kits
Laceration Trays
Suture Removal trays
Trach Care Trays
General Purpose Trays
Pain Management Trays
Amenity Kits
Surgical Suture Trays
O.R. Turnover Kits
Owens & Minor, Inc. (NYSE: OMI) is a Fortune 500 global healthcare solutions company integrating product manufacturing and delivery, home health supply, and perioperative services to support care through the hospital and into the home. Owens & Minor drives visibility, control and efficiency for patients, providers and healthcare professionals across the supply chain with proprietary technology and solutions, an extensive product portfolio, an Americas-based manufacturing footprint for personal protective equipment (PPE) and surgical products, as well as a robust portfolio of products and services for patients managing chronic and acute conditions in the home setting. Operating continuously since 1882 from its headquarters in Richmond, Va., Owens & Minor is a 140-year-old company powered by more than 20,000 global teammates.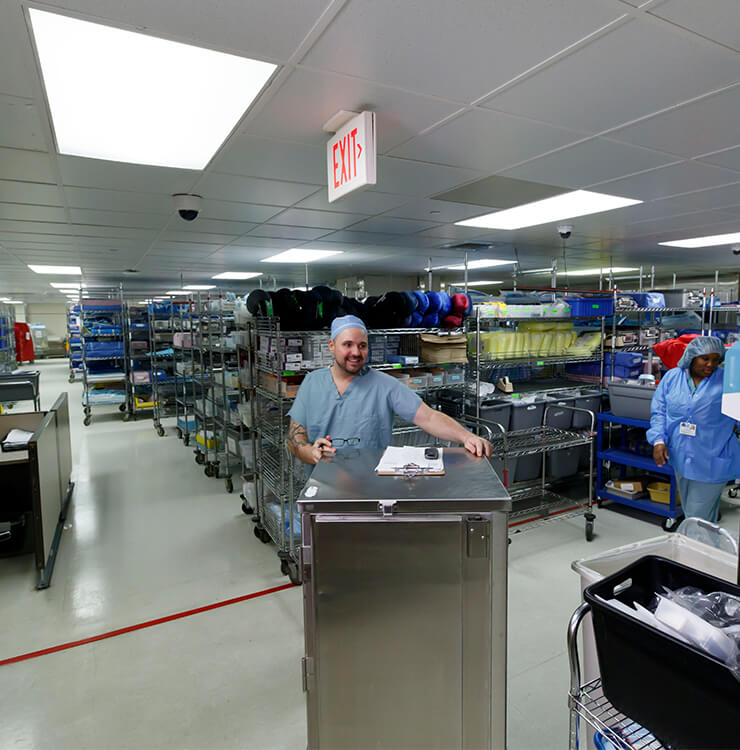 Now more than ever, healthcare facilities are faced with mounting pressures to simplify, standardize, and increase efficiencies in order to improve their overall financial health. We can help you find ways to cut down on wasted time and wasted money. Ask us how our Total Value approach can help you make a difference.